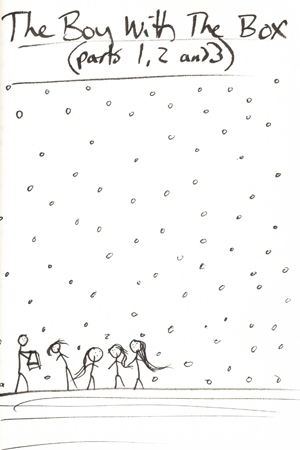 The Boy With The Box (Part 1)
He smiles at you and opens it up. Just a crack. Enough for you to see… what? Something. There's definitely something in there. But what? What is it? What does he have in there? You step forward to take a closer look, but he snaps the lid back into place and leaves you always wanting more.
The Boy With The Box (Part 2)
"But I didn't get the chance to see it properly!" Ethel said. "Show me again!"
"No," said Ted. "It's Claire's turn now."
"I don't want a turn," said Claire. "It's just a spider."
"It didn't look like a spider," Ethel said. "It was so dark it could have been anything!"
"It's always a spider," Claire said.
"What if it's not, though?" Tina said. "What if it's something new and amazing?"
"Like a newt!" Daniel said. "Or a worm."
"Spiders are amazing," Ted blurted out. "Really amazing."
"See! I told you it was a spider," Claire said. "Come on, let's go. I can't believe it's snowing and all you three want to do is look in a box!"
"Oh, well, okay, yeah," said Ethel, her eyes still longingly fixed on the box. "I suppose I don't need another look. Sorry, Ted, but I've seen your spider before."
"It might not be a spider," Ted said desperately. "It might be something entirely different."
"Like a newt!" said Daniel. "Or a worm."
Ted smiled at Ethel and opened up the lid. Just a crack. Enough for a glimpse of that strangely alluring darkness, all those hints of something secret inside.
Ethel couldn't resist. She tried but she couldn't. She stepped forward, bent down, peered in, gasped. It wasn't a spider in there at all.
The Boy With The Box (Part 3)
(It was seven thousand seven hundred and sixty eight spiders.)
___________
Notes:
1. Written between the 14th and the 21st of May, 2021
__________
If you like the things you've read here please consider subscribing to my patreon or my ko-fi. Patreon subscribers get not just early access to content and also the occasional gift, but also my eternal gratitude. Which I'm not sure is very useful, but is certainly very real.(Ko-fi contributors probably only get the gratitude I'm afraid, but please get in touch if you want more). Thank you!