[Notes: This article is from October 2013. I apologise for the language contained within]
***
Ted Vaaak's "The Whore Who…"s
During the mid to late '70s, Ted Vaaaak, seemingly at the time lost in the midst of a decade long breakdown, blundered his way into the nascent Violent Women subgenre with his surprisingly successful novel The Whore Who Shot Her Way Out (published in December 1974 by Virago). The story followed a weary prostitute, Eddington 'Edds' McHair, through a typical day on the job, as she meets clients, chats to friends, and describes repeatedly her clothes. The climax of the book, a frightful attempt to escape an overcrowded chip shop on Southend seafront, is said to have left many readers in tears.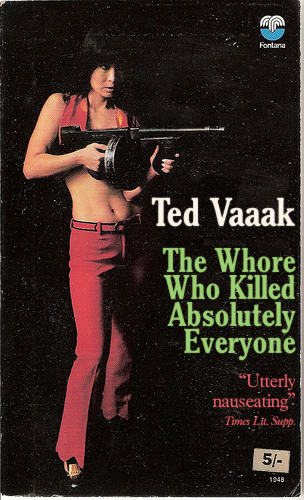 Later that year, when it was revealed that Ted Vaaaaak was not technically a woman, the series transferred to Fontana Publishing, and The Whore Who Exploded burst onto the bestsellers charts with unabashed fury. Over the next 26 months, his breakdown now suppressed, Ted capitalised on his new found success with 44 different Whores books, which was astonishing even by Ted's battering ram standards.
The series was received not without some controversy. A debate around violence and pornography is never far away from seeping out of the British media's lips at the best of times, and the 1970s were, in many ways, dreadful. In the Anglia News vaults there is (never broadcast) footage of a disastrous doorstepped interview at Vaak's house, where Ted, 100% nude, is asked whether he finds the filth he writes erotic. Ted's subsequent claim that "all fiction is erotic" is probably, all things considered, the most terrifying thing he ever uttered.
In late '77 a Radio 4 dramatisation was made of The Whore Who Killed Absolutely Everybody, the final novel in the series, where Edds comes out of retirement for one last night of sex, violence and extensive descriptions of clothing. Renamed The Woman Who Killed Absolutely Everybody, it aired to general disgust and mild disquiet, and soon afterwards Ted's and the public's interest in the series and indeed the genre as a whole gradually waned away.
Editor's Note: This article's title was changed from Ted Vaaak's "The Whores Who" to Ted Vaak's "The Whore Whose" to finally the current title within thirteen seconds of publication.
__________
If you like the things you've read here please consider subscribing to my patreon or my ko-fi. Patreon subscribers get not just early access to content and also the occasional gift, but also my eternal gratitude. Which I'm not sure is very useful, but is certainly very real.(Ko-fi contributors probably only get the gratitude I'm afraid, but please get in touch if you want more). Thank you!