[Notes: This was from one of the printed Essex Terror's, rather than an onle Essex Terror. I can't remember if it made more sense in context but it's still the most frightening thing ever written. And every word of it is true.]
***
The Laughter Never Dies
THE CLACTON CLOWN has been horrifying the children of Essex for most of their lives. It is described by some as Ted Vaaak's most disturbing creation. Yet it lives out in the open with impunity. We sent Karen Parallax to investigate.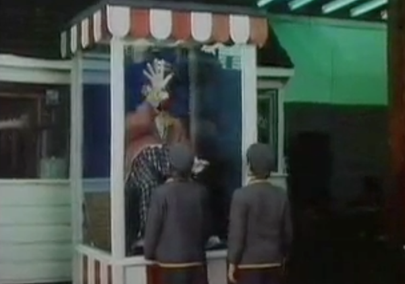 It sits unassumingly at the entrance to the pavilion. Looking to the casual observer like any other glass box of seaside entertainments, the Clacton Clown has managed to evade the notice of adults in the town for what feels like decades. Only children appreciate the true horror of its existence, and the malevolent hold it has on their dreams.
The first, and so far only, product of Ted Vaaaak's entertainment and leisure devices corporation, VELDC (pronounced Veldoc), the Clacton Clown has been designed to horrify and unsettle the young and the timid to the maximum possible level without ever inducing within the victim weeping, flinching, spasming, biting, fleeing, or any other overt external manifestation of terror. Ted claims it has been a complete success, and that the longer it stays unnoticed by adults, the greater its victories must be.
The clown sits in a glass box, which is to be its prison for all eternity. Faced with the horror of its fate (that of being bound to Clacton until the end of time to be glared at or ignored by the Essexmen and Essexw'men and the mutated offspring that are forced to follow them), the clown chooses not to despair but to do what clowns are designed to do — laugh and laugh and laugh and laugh, its hand pressed up against the glass, its body rolling back and forth and round and round as it is overcome with mirth, its head lolling wildly yet with eyes that never ever stop staring straight at you, until its suppressed anguish at the horror of existence is radiated out from deep within itself across the ether into the young hearts of its victims (the frequency of the laughs is such that they are mostly inaudible to the adult emotional system, sounding like nothing more than the regular chuckling of the commonfolk, aggressive and tinged with contempt but containing nothing sinister).
The clown is purged through this desperate laughter while the victim is stricken, often terminally. On a quiet day particularly susceptible children can receive these dread transmissions from as far away as nearby Frinton, and often do.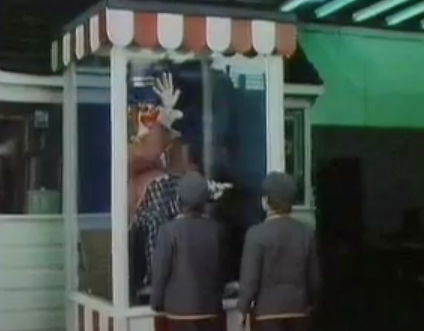 I ask Ted how he and his team managed to create such a lifelike facsimile of a living clown for imprisonment within this Amusement. He looks at me and pauses for a second, pondering whether to lie or admit to me his crimes. He opts for the latter and it all comes tumbling out of his cracked lips in a rushed jumble.
"Clowns, clowns, more than us, more than anyone, are immortal. Both metaphorically in that they live on in our minds frightening us with echoes of their cries long after we are immune to their actual vibrations, and physically, in that clowns cannot truly die. They do die, obviously, but whereas with people when we die our flesh and blood rot and crumble away while our core of bone and claw solidifies into permanence, a clown, an inversion of humanity in spirit and in flesh, rots from the inside upon death while the outer flesh solidifies in defiance of natural law. Instead of intricate bonework they leave behind a leather skin filled with ash for us to find and fetishise.
"It is common for a person, upon finding an intact clown skin, to obsess and marvel over it, hiding it from friends and family, caressing it in privacy and seclusion, eventually donning it yourself, and thereon surrendering your soul to its legacy, eventually becoming clown yourself, living as they do, unendingly, until your own eventual murder, leatherification, discovery, possession, the cycle continuing onwards throughout time, one clown making one new clown, no growth but no diminishment neither.
"I must admit on discovering this specimen that I too became obsessed for a time, but knowledge is innoculation, and I knew what I must do. Levers and tentpoles and pipes became arms, legs, spines and more, a teapot a skull, butterknife fingers, an old tobacco tin heart, a shoehorn tongue. Over this skeleton I slipped the skin, and it fitted, perfectly, just as my measurements suggested. Its memories poured into the teabags left rotting in its head while its malevolence seeped into the dried and clotted tobacco that cluttered its heart.
"Awareness came before movement fortunately and I had time to erect a glass prison for this monstrosity, this undying abomination. He sat on his nest staring out in horror at me. But then came the cries, the gyrations, the never ending laughs.
"I abandoned it in Clacton, by the sea, where the people come, where the children come. For twenty pence you can amuse yourself in this town, the flashing machines and the grasping claws and the guns, the guns, simulated and real, water and pellet and cork. Yet for free you can feel his pain. And you cannot avoid it. From this each child will be hollowed out, emotion eaten by the maggots and worms of his thoughts until nothingness is all they have, empty husks lost and vacuous and insane, our county forever changed. Yet unchanged, too, still here maintaining ourselves as a void of horrors to buttress against the sickening disgustments of the civilisations beyond."
Ted begins to laugh and his chuckles and guffaws mingle with the desperate laughs of the clown. Up close you can see the sorrow in its eyes. The clown stops laughing for a moment as I hold my hand up against his, the cold glass seperating our palms and undoubtedly saving my skin from his frosty touch. From beneath the unit a wave of scuttling sea bugs emerge, miniature trilobites with extrajointed legs. Are these physical manifestations of the clown's dreams? Or just mutations hurled here by the crashing waves of the sea against the sea wall? I do not know. I catch my finger on a splinter on the wooden edging of the clown box. The sudden jolt of pain shocks me and I involuntarily stamp at the creatures, my DM clad feet crushing relentlessly down upon them. They burst under the harsh soles of my boots in a spray of grey mucus and a satisfying crunch of shell and bones. A single drop of my blood falls from my finger and mingles with their remains.
"The clown will never die," Ted jabbers at me later while I run my welling hand under a tap in the toilets. He shouldn't be here in the Ladies with me but he is. "One day the children will be old enough to vote, to work, to join the council and decide its ways. The clown's secret will be known and they will have it removed, buried like the rest of its kind in a skip full of rubble and old furniture, everything rusted and moldgrown in the rain.
"But someone will find it, rescue it, take it home and sit it on their settee, nurse it back to health. Knit it a new uniform, stitch its eyebrows back to its face, replace its hat, mend its bones and warm its skin until it begins to awake."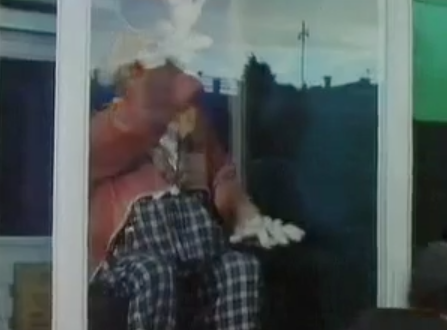 He looks me in the eye for the first time this afternoon. "This time it will be uncaged."
***
The Clacton Clown can be located at the entrance to the Clacton Pavilion, Marine Parade, Clacton, Essex. The Clown can be seen at any time during the day throughout the year, but it is usually taken inside at night in the winter months for reasons of safety.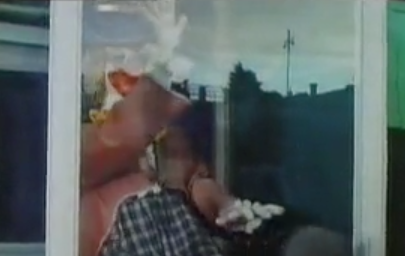 __________
If you like the things you've read here please consider subscribing to my patreon or my ko-fi. Patreon subscribers get not just early access to content and also the occasional gift, but also my eternal gratitude. Which I'm not sure is very useful, but is certainly very real.(Ko-fi contributors probably only get the gratitude I'm afraid, but please get in touch if you want more). Thank you!