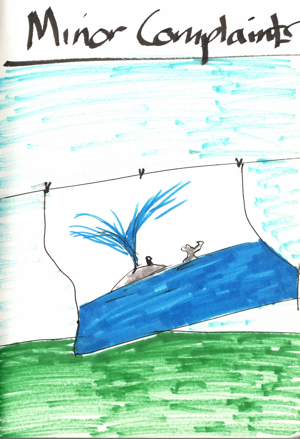 1: Poetical Complaints
"Claire, you've stolen my poetry books again!" Tina said. "Stop stealing my poetry books!"
"I have not!" Claire said. "I don't even like poetry."
"You do like poetry," Tina said. "You just pretend you don't because I like poetry."
"That might be the stupidest thing I've ever heard," Claire said. "The reason I don't like poetry is because it's stupid and you're stupid and I didn't steal your poetry books anyway so who cares what I think of poetry!"
"Well if you didn't steal them who did?" Tina said. "And don't blame Daniel or Ethel because I already asked them and they definitely didn't steal any."
"I don't know and I don't care," Claire said. "Maybe no one stole them. Maybe you never even HAD any poetry books in the first place and you've made all this up to annoy me."
"Of course I had some poetry books," Tina said. "I write all my poems in them. Which is why I want at least one of them back right now, Claire! Because I just wrote a poem."
"Well you don't need your poetry book back then," Claire said. "Seeing as you've already written this one down somewhere else. Use that as a poetry book instead."
"But I can't. I wrote it in my head!" Tina said. "I need to get it out of there as quickly as possible!"
Claire snorted at this in derision. "The only thing worse than poetry," she said, as she stomped down the stairs. "Is poets!"
2: Technological Complaints
"Have you seen my phone, Oya?"
"No. Actually, I was just going to ask you if you've seen mine."
"I haven't. I was planning on using it to ring mine."
"And I was planning on using yours to ring mine."
"I told you we should buy a spare one for emergencies."
"Wait, I told you we should buy a spare one for emergencies."
"If only we'd listened to each other!"
"But then what if we lost that one as well? How many spare ones would we need before it was physically impossible to lose all of them at once?"
"We could glue one of them to the desk."
"That's not a bad idea actually. Maybe tape another one to the wall."
"It'll be like we're living in the 80s!"
"One of us could have a pager!"
"I don't even know how pagers work!"
"They're like twitter I think. But just one message at a time. And the message is a number that you have to decode."
"That sounds brilliant."
"It does, doesn't it?"
"Why don't we still do that? Imagine having to take out a little notebook from your pocket every time you get a message just so you can look up what it means and who it was from!"
"Not a notebook. A filofax!"
(laughter)
"So anyway, I wonder where our phones went."
3: Artistic Complaints
"Mum, have you seen our paintings of the whale that we made?" Ethel asked
"The whale AND the penguin," Daniel added. "And a heron."
"We were going to show them to Lucas," Ethel said. "But now we can't find them."
"Weren't they hanging from the washing line?" Agnes said. "That's where I saw them."
"But we looked there and the only thing on the washing line is some sheets," Ethel said.
"And some of our paint," Daniel said. "Which is now on the sheets."
"So our paintings are back to front!" Ethel said. "We can't show Lucas back to front paintings."
"Maybe Lucas will like that," Agnes said. "Considering you keep telling me he lives in the mirror."
"But we painted them back to front because he lives in the mirror," Ethel said.
"So now they're front to back," Daniel said.
"Which will be completely back to front by the time Lucas sees them," Ethel said. "It's a disaster!"
Ethel and Daniel put their hands in the air and ran out of the kitchen screaming in unison.
"You could turn the sheets round," Agnes called after them in her ever practical way, but Ethel and Daniel were having none of it. Panicking was too much fun.
__________
Notes:
1. Written on the 18th and the 19th of May, 2022
__________
If you like the things you've read here please consider subscribing to my patreon or my ko-fi. Patreon subscribers get not just early access to content and also the occasional gift, but also my eternal gratitude. Which I'm not sure is very useful, but is certainly very real.(Ko-fi contributors probably only get the gratitude I'm afraid, but please get in touch if you want more). Thank you!