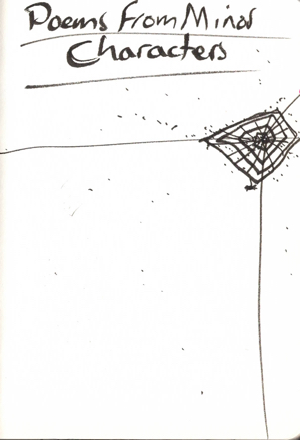 #1: The Spider
scuttling across ceilings
spitting at me
all my splendid children
demand to be free
#2: The Cat
only in sleep
are we truly ourselves
and no one is themself
more often than me
#3: A Crow
you cannot
you will not
ever
scare
me
#4: David
My beard is like a tangled bush
filled with cobwebs
and bees
rotting fruit
and sparrow's nests
crisp packets, carrier bags
and old coke cans
turned pink over time
by rain
and sun
#5: The Ghost In The Well
I am no longer alive
and you are not yet dead
but give it time
and we'll be together again
__________
Notes:
1. The Spider was written on May 20th, 2022
2. The Cat was written on June 4th, 2022
3. A Crow was written on January 3rd, 2023
4. David was written on May 10th, 2022
5. The Ghost In The Well was written on November 11th, 2022
__________
If you like the things you've read here please consider subscribing to my patreon or my ko-fi. Patreon subscribers get not just early access to content and also the occasional gift, but also my eternal gratitude. Which I'm not sure is very useful, but is certainly very real.(Ko-fi contributors probably only get the gratitude I'm afraid, but please get in touch if you want more). Thank you!