An artefact from another world, The Islands Of The World is a guidebook to the many strange and wonderful places that exist out there across the endless immensity of the seas.
Here among these hundred islands you will find wonders and whales, mountains and mermaids, sorrow and silence, forever frozen fields and ever-burning flames, alongside a treasure trove of carefully curated illustrations from around the world.
The Islands Of The World (a guide) is available now in a beautiful, fully illustrated, pocket book edition for £7.99/$9.99. An ebook version is also available from ko-fi (free/pay what you want).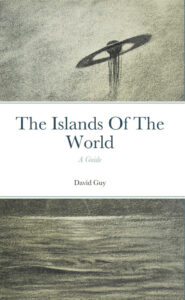 Product Details:
Title: The Islands Of The World: A Guide
Pages: 100
Binding: Paperback
Illustrations: 95 (b&w)
Dimensions: Pocket Book (4.25×6.875in / 108x175mm)
Paper Quality: 80gsm
_________________________________________________________________________
The Islands of The World – Introduction
Ache – Allegory – Bay – Beauty – Blue – Boundary – Brilliance – Cage – Calamity – Certainty – Chalk – Change – The City Of Red Houses – Constellation – Cork – Delusion – Denial – Depth – Drowned – Earth – Easy – Erstwhile – Essex – Eyrie – Familiar – Far – Fireflies – Forest – Ghost – Golgotha – Guilt – Hope – Hotel – Impermanence – Infinity – Inspiration – Intervention – Ix – Jorel's Island – Knowledge – The Light Of The Sun – The Lighthouse – Lure – Mars – Masque – Mist – Myth – Nest – North – Obscurity – Passage – Past – Poetry – Promise – Quiet – The Reflection of The Moon – Ritual – Roan – Rock – Rule – Salt – Self – Shatter – Shell – Silence – Silky – Siren – Soon – Sorrow – Speech – Story – Suffering – Target – Thicket – Thirst – The Thorns – Torpor – Tower – Unknown – Viy – Vurt – Walk – Wall – Web – Whisper – Wilderness – Wonder – X – Youth – Zaratan – Zeal
Illustrations – Notes And References – About The Author
_________________________________________________________________________